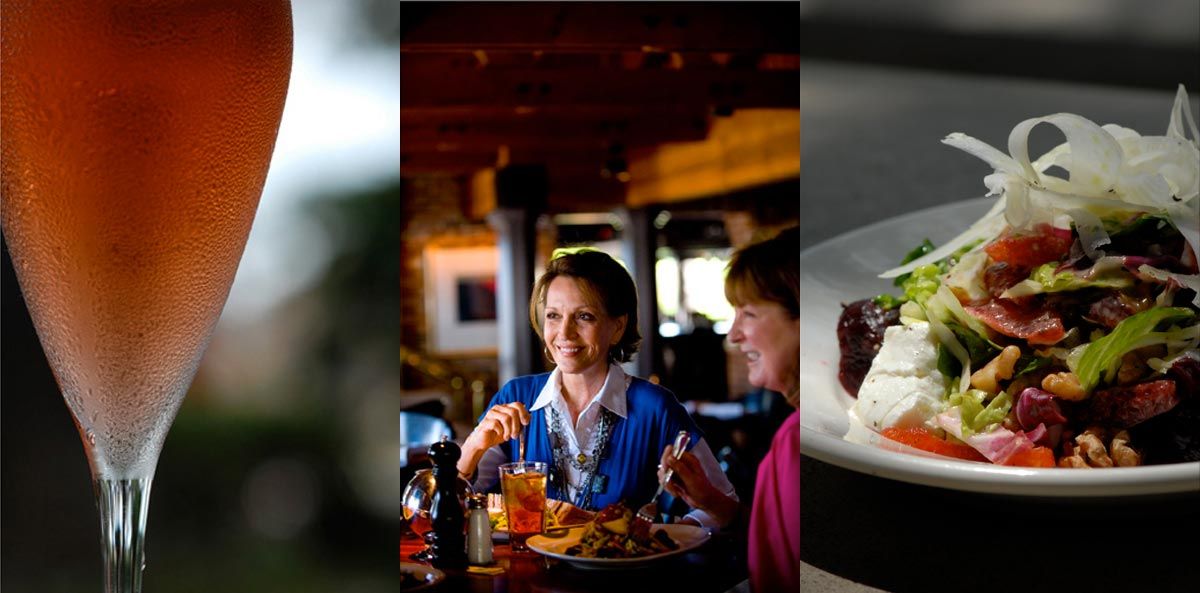 Our burgers are house-ground each morning for today's service only.
CHIMICHURRI STEAK SANDWICH*
Arugula, chimichurri, tomato, red onion
Cheddar, tomato, lettuce, pickle, onion, mayo, mustard
Applewood smoked bacon, chopped Cheddar, onion, hickory sauce
Brown rice, crimini mushroom, sweet soy, Jack, avocado basil slather
Chef's dressing, leaf lettuce, pickles, red onion
FAMOUS FRENCH DIP AU JUS*
Thinly sliced prime rib, mayo, au jus
+ Choose: Cashew Cauliflower Quinoa Salad, Coleslaw, French Fries or Seasonal Vegetable
Tortilla strips, peanuts, cilantro, honey-lime vinaigrette, peanut sauce
Grilled chicken, smokehouse bacon, avocado, egg
ASIAN NOODLE SALAD*   (ADD CHICKEN, STEAK, or TUNA)
Avocado, mango, peanuts, herbs, Thai dressing. We recommend adding Steak!
Pan-seared ahi, avocado, mango, red onion, cilantro-ginger vinaigrette
Romaine, Reggiano, buttermilk ciabatta croutons
Mixed greens, house made croutons, chopped egg and smokehouse bacon
+ Dressings: Blue Cheese, Mustard-Honey, Buttermilk Garlic, or Champagne Vinaigrette
Hardwood grilled, cowboy butter, mashed potatoes
FILET MIGNON*      5oz./8oz.
Hardwood grilled, wilted spinach with Reggiano
Hardwood grilled, wilted spinach with Reggiano
Apricot glaze, cashew cauliflower quinoa salad
100 HOUR MARINATED RIB-EYE*
*Limited Availability. (Please ask when placing your order)
Pineapple sesame ginger marinade, garlic mashed potatoes
Hill country bbq sauce, cole slaw
APPLE WOOD SMOKED PORK CHOP*
Orange vanilla brine, red onion jam, garlic mashed potatoes
ROASTED PRIME RIB*    8oz./12oz.
Rosemary salt crust, garlic mashed potatoes, au jus

Home Smoked Salmon
Grilled Artichokes
Shoestring French Fries
Chicken Tortilla Soup
Garlic Mashed Potatoes
Roasted Beets
Chilled Asparagus
Cashew Quinoa Salad
Creamy Coleslaw
Wilted Spinach with Reggiano
True Idaho Baked Potato
Caesar Salad to accompany your entrée
DESSERTS
Apple Cobbler
Key Lime Pie
Hot Fudge Sundae or Warm Nutty Brownie with Salted Caramel Sauce
Espresso
Locally Roasted Coffee
Cappuccino
Gluten Free menu available. Please notify us of any food allergies.
* Food items are cooked to order. Consuming undercooked meats, seafood and eggs may increase your risk of food borne illnesses.