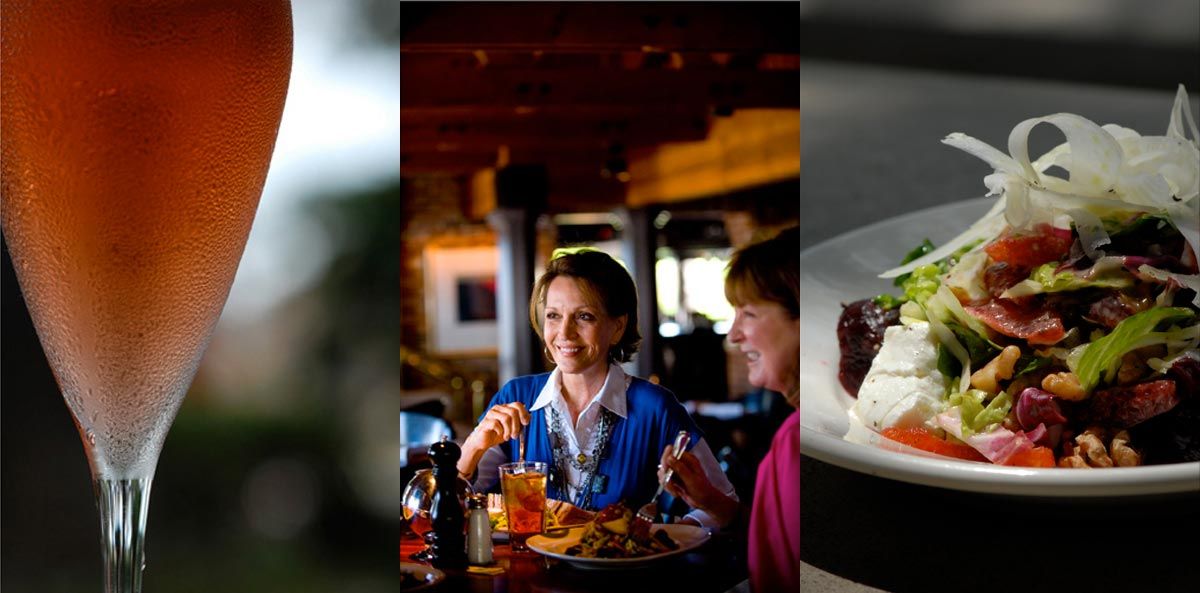 Our burgers are house-ground each morning for today's service only.
FLAT IRON STEAK SANDWICH* 19
Arugula, chimichurri, tomato, red onion
Cheddar, tomato, lettuce, pickle, onion, mayo, mustard
Canadian bacon, chopped Cheddar, onion, hickory sauce
MUSHROOM SWISS BURGER* 19
Garlic, thyme, white truffle oil, cream
Chef's dressing, leaf lettuce, pickles, red onion
FAMOUS FRENCH DIP AU JUS* 23
Thinly sliced prime rib, mayo, au jus
+ Choose: Quinoa, Cole slaw, French Fries or Seasonal Vegetable
Tortilla strips, peanuts, cilantro, honey-lime vinaigrette, peanut sauce
Grilled chicken, smokehouse bacon, avocado, egg
ASIAN NOODLE SALAD* 16    (ADD CHICKEN 21, STEAK 23, OR TUNA 25)
Avocado, mango, peanuts, herbs, Thai dressing. We recommend adding Steak!
Pan-seared ahi, avocado, mango, red onion, cilantro-ginger vinaigrette
CAESAR SALAD 12 - WITH TODAY'S SOUP 17
Romaine, Reggiano, buttermilk ciabatta croutons
TRADITIONAL SALAD 12 - WITH TODAY'S SOUP 17
Mixed greens, house made croutons, chopped egg and smokehouse bacon
+ Dressings: Blue Cheese, Mustard-Honey, Buttermilk Garlic, Hot Bacon, or Vinaigrette
Chimichurri sauce, grilled asparagus
Hardwood grilled, cowboy butter, mash potaotes
FILET MIGNON*      5oz. 31        8oz. 41
Hardwood grilled, wilted spinach with Reggiano
Hardwood grilled, Brazilian collard greens
Apricot glaze,quinoa salad
HOUSE MARINATED RIB-EYE* 39
Pineapple sesame ginger marinade, loaded baked potato
Hill country bbq sauce, cole slaw
APPLE WOOD SMOKED PORK CHOP* 31
Orange vanilla brine, red onion jam, garlic mashed potatoes
ROASTED PRIME RIB*    8oz. 31      12oz. 39
Rosemary salt crust, loaded baked potato, au jus

Home Smoked Salmon 16
Bourbon Mushroom Pate 11
Spinach & Artichoke Dip 13
Grilled Aritchokes 15
Shoestring French Fries 6
Garlic Mashed Potatoes 6
Jalapeno Creamed Corn 6
Roasted Beets with Orange Lavender Glaze 6
Quinoa Salad with Cashews 6
Brazilian Collard Greens 6
Chilled Asparagus with Vinaigrette 6
Creamy Cole Slaw 6
Wilted Spinach with Reggiano 6
True Idaho Baked Potatoes 8
Caesar or Traditional Salad to accompany your entrée 6
SOUP CALENDAR
S Vandal's Gazpacho 7
M New Orleans Style Red Beans and Rice 7
T Chicken and Shrimp Gumbo 7
W Chicken Tortilla 7
T Arroz con Pollo 7
F Chicken Tortilla 7
S Firehouse Chili 7
DESSERTS
Apple Cobbler
Key Lime Pie 8
Warm Nutty Brownie 8
Espresso 2
Locally Roasted Coffee 3
Cappuccino 4
Gluten Free menu available. Please notify us of any food allergies. No cell phones in the dining room.
* Food items are cooked to order. Consuming undercooked meats, seafood and eggs may increase your risk of food borne illnesses.